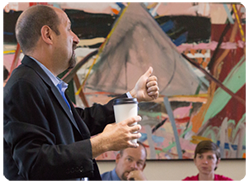 Today I had the pleasure of meeting with more than 80 people in the cafe of the Portland State Office Building for an informal conversation. While I try as often as possible to leave the fourth floor of our building in Salem and spend time with the fantastic staff at OHA, I also want to have more regular and more casual meetings. So this was the first of many such gatherings.
It was wonderful to be able to update people face to face on what is happening at OHA. There were a lot of questions about the future of health care in our state and what role public health should play in a health system that has a coordinated model of care.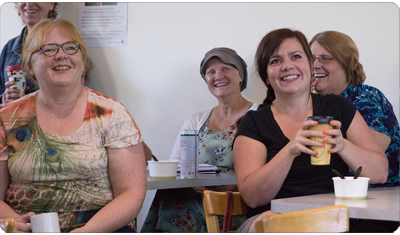 As I shared, I think this is a great opportunity for public health. The coordinated care organizations are accountable not for delivering more health care but better health. Public health has a huge role to play in that and it's up to us to decide what that looks like at the state level. I look forward to working in the months to come with Suzanne Hoffman, Bobby Green and everyone at Public Health to make the connections to health system transformation tighter.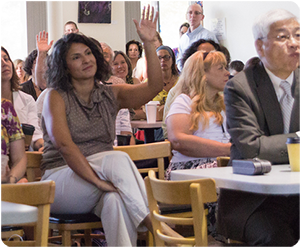 People also had a lot of questions about Cover Oregon, our state's new health insurance exchange. Cover Oregon opens in October. If people are uninsured or buy individual or family coverage, this will be the one-stop shop for coverage, whether that's the Oregon Health Plan or a commercial plan. If you haven't been to CoverOregon.com yet, I encourage you to go learn more. We also have information about what 2014 will bring for the Oregon Health Plan here.
The next "Breakfast with Bruce" is planned for 8 a.m. Thursday, August 22, at the Barbara Roberts Human Services Building in Salem. Just like at the meeting in Portland, this is open to all OHA staff, no matter where they work. I will be back at PSOB later this year and also at Oregon State Hospital and other OHA locations. I look forward to seeing you there.