Last week I had privilege of attending the Office of Equity and Inclusion's annual meeting, which is not only to honor staff but to honor the hundreds of community members who co-create the office's work. This year, key leaders were honored as well. It was a perfect capstone following an incredible Coordinated Care Model Summit.
The highlights included Crystal Marion, who rocked the room with powerful spoken word poetry; an honoring of Tricia Tillman, outgoing director of the OEI; and the establishment of the Dr. Bruce Goldberg Health Equity Award, to be presented annually to leaders in the fight for health equity for all Oregonians.
During a deeply moving ceremony, Dr. Goldberg was honored by Holden Leung, director of Asian Health and Services Center. I will let Holden's words speak for themselves.
"In addition to his innumerable professional accomplishments, we want to honor Dr. Goldberg for his leadership as a champion of health equity. In addition to the creation of the Office of Equity and Inclusion, he championed the recognition of traditional health workers, and recognition of the importance of culturally and linguistically appropriate health care in health systems transformation and mental health. Dr. Goldberg, you have set the bar high for OHA leadership present and future – for the professional commitment that all Oregonians – including those who are from different countries and continents, different languages and cultures, different abilities, and different experiences of oppression and resilience – can be healthy."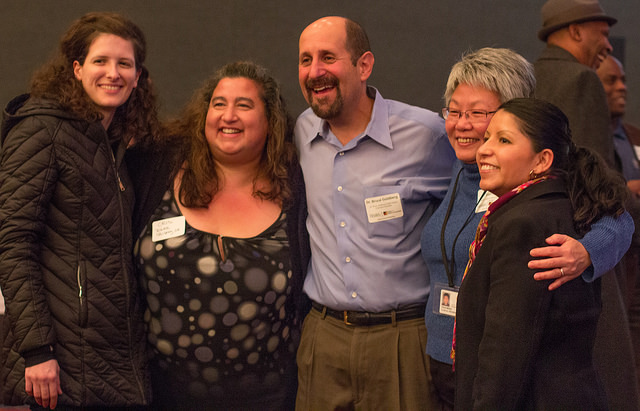 Bruce Goldberg with community members at the 2014 Office of Equity and Inclusion annual event.
After those remarks, the first recipient of the Dr. Bruce Goldberg Health Equity Champion Award was given to Oregon's Speaker of the House, Representative Tina Kotek, for her work in championing (among other things) health equity in coordinated care, and cultural competency for health care providers. She was honored for her leadership in the 2011 session as a champion for cultural competence continuing education for licensed health care providers, which eventually passed in 2013. She also introduced legislation that elevated the role of doulas in Oregon's health system transformation.
Most significantly, Rep. Kotek made sure that the legislation that created the coordinated care organizations was clear in its directive that transformation should drive toward health equity. This legislative accomplishment has significantly shaped the work of the Office of Equity and Inclusion and Oregon's coordinated care organizations.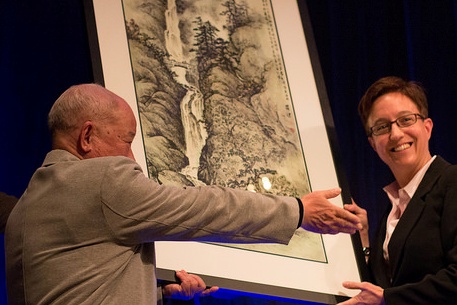 Portland artist Luo Jian presents a painting to Oregon House Speaker Tina Kotek.
Rep. Kotek reminded all of us that we stand on the shoulders of those who came before us and we can be proud of the work that we have done. This is our ongoing legacy and it will carry forward in the lives of Oregonians for decades to come. She also reminded us we still have a long way to go and much work yet to do and expressed her confidence in our ability to do it together.