To the OHA team:
On May 13, I attended the 2014-2015 Leadership Academy graduation honoring 37 participants from DHS and OHA. This year's theme was "Leading with Purpose, Clarity and Impact." I was very impressed by the graduates' projects that included a wide variety of topics such as metrics, cultural conflict management, transformational leadership, and meetings that matter. These outstanding individuals have already made an impact on their peers, and I admire their willingness to lead us into OHA's new landscape. It's exciting to think we all have the potential to grow at any point in our careers.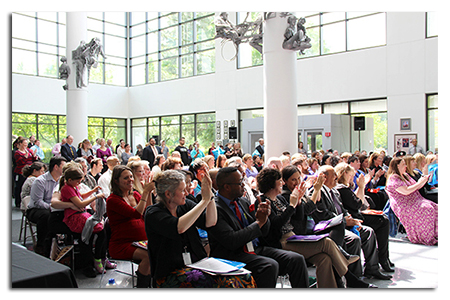 Without leadership, nothing is possible; with leadership, everything is possible. Learning is one of leadership's key components and true leaders are hungry for knowledge. Our Leadership Academy and the Aspiring Leaders Program exemplify the importance of education and enrichment in the workplace. We can lead from any chair as long as we have the desire to learn and share.
Take a moment to congratulate the Leadership Academy graduates and all the graduates in your world this season.
Thank you, Lynne
DHS|OHA Leadership Academy, 2014-2015
DHS: Ann McQueen, Christy Shipman, Christy Sinatra, Gloria Peña, Jennifer Wynhausen, John Riordan, K. Renee Shippey, Karrie Brown, Kirsten Arreguin, Roberta Lilly, Ryan Kibby, Sarah Lambert, Tammi R. Martin, Tasha Chapman, Teresa Miller.
OHA: Alisa Webb, Alison Alexander, Angela Leet, Christy Hudson, Cinthia Vinton, Darren Hall, Jamal Al-Awaj, Jamal Furqan, James (Jay) MacPherson, Jason Stringer, Jazette Johnson, Jeannette Nguyen-Johnson, Jenna Hiestand, M.D., Josie Silverman, Kelly C. Knight, Kerry Johnson, Kiran K Jonnalagadda, Laurie Burke, PsyD, Lewis A Raynor, Micah A. Lewis, Michelle Cate, Vivian Siu.
Shared Services: Joass Lyatuu, Lorraine Odell, Tim Cole.
***
To your health: Your PEBB benefits include some valuable resources that can improve your well-being. Moodhelper.com is an online way to help overcome depression. This program, designed and tested by Kaiser Permanente researchers, is available to all PEBB members. It's accessible from any computer, available any time of day or night, and completely confidential. Moodhelper.com teaches skills that will allow you to engage in pleasant activities and change unrealistic thinking – two scientifically proven approaches to overcoming depression. This is just one of the many wellness programs that PEBB offers.