To the OHA team:
The reason we come to work each day is to help Oregonians and communities achieve optimum physical, mental and social well-being through partnerships, prevention, and access to quality, affordable health care. Through our work, we seek to deliver the triple aim of better health, better quality and lower costs for all Oregonians.
OHA Priorities 2016-2017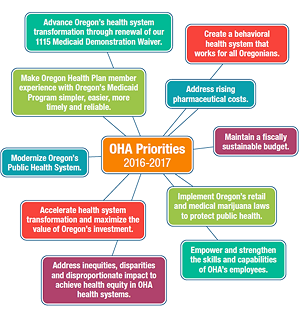 To that end, I am excited to share with you the top 10 priorities for the remainder of our biennium – through June 30, 2017. Your leadership team finalized these goals last month. I look forward to meeting with you in the coming months to discuss how we can accomplish these important priorities on behalf of all Oregonians. Look for upcoming webinars to learn more.
Each priority is equally important, but our immediate focus will be on the following three:
Modernizing Oregon's public health system. Public health plays a critical role in protecting Oregon's communities. However, a new statewide assessment found gaps between Oregon's current public health system and one that provides access to fully modernized health protection, prevention and promotion in the state. Top priorities include communicable disease prevention, reducing environmental health risks, emergency preparedness and other essential services. For more information, visit healthoregon.org/modernization.
Creating a 21st century behavioral health system that works for all Oregonians. This month we launched the Behavioral Health Collaborative, a diverse group of stakeholders that is charting a course to improve outcomes for consumers of behavioral health services and provide more effective, equitable and consumer-friendly services in Oregon. The collaborative will develop a list of prioritized recommendations to present to the legislature in November. Visit the collaborative's website to learn more.
Renewing our 1115 Medicaid Demonstration Waiver. In May, Oregon became one of the first states in the nation to tackle housing as a health care issue. In a new Medicaid waiver proposal, we're seeking approval to use federal dollars to address housing needs for people with health problems. When we renew our current waiver in June 2017, we will also include measures to improve the integration of physical, behavioral and oral health care, improve health outcomes, reduce disparities, hold down costs, and continue to expand the coordinated care model. Read the current draft waiver application to learn more.
OHA leadership has established these goals and broad tactics to achieve them. It will be up to each one of us to weave these priorities into our daily work. Download the 2016-2017 OHA priorities here.
You are vital to a healthier Oregon
Each one of us plays a vital role in accomplishing these priorities. I look forward to discussing these priorities with you at upcoming webinars and meetings. Over the next year, I'll keep you informed about our progress.
Thank you for all you do to advance the health of all Oregonians.