During the holiday season, it's easy to get caught up in a whirlwind of activity. Although somewhat hectic, this is a wonderful time of the year for many of us. It's also an opportunity for us to look at the different ways we can give.
Our community partners have shown us creative and thoughtful approaches to sharing their time and resources to improve the health of all Oregonians. Last month, for example, the Oregon Alliance for Antibiotic Resistance Education (AWARE ) hosted an event in Portland's Pioneer Square to share information about responsible antibiotic use. At "AWARE in the Square," physician assistant students from OHSU and pharmacy students from OSU School of Pharmacy donated their time to provide flu immunizations for all, even those who had not yet signed up for health coverage. This is just one of hundreds of ways our many partners give their time and expertise to help others be healthier.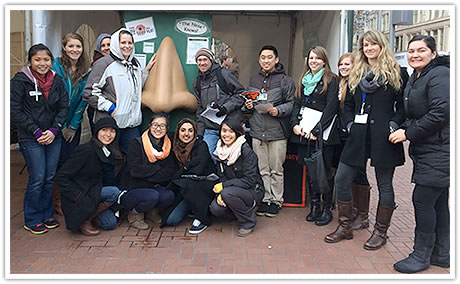 Some of the students who volunteered at 'AWARE in the Square' in downtown Portland.
There are several simple ways we can give our time to make life better for our communities, from packaging food bundles at a food bank, to gathering warm clothing and blankets for our local shelters, to donating toys for children and gifts for people who are receiving care and working toward recovery at Oregon State Hospital. In this season of giving, a little bit of kindness can go a long way.
May we all have peace and joy with loved ones and may we all experience the joy of giving to someone in need.